Denaya - Business Agency Elementor Template Kit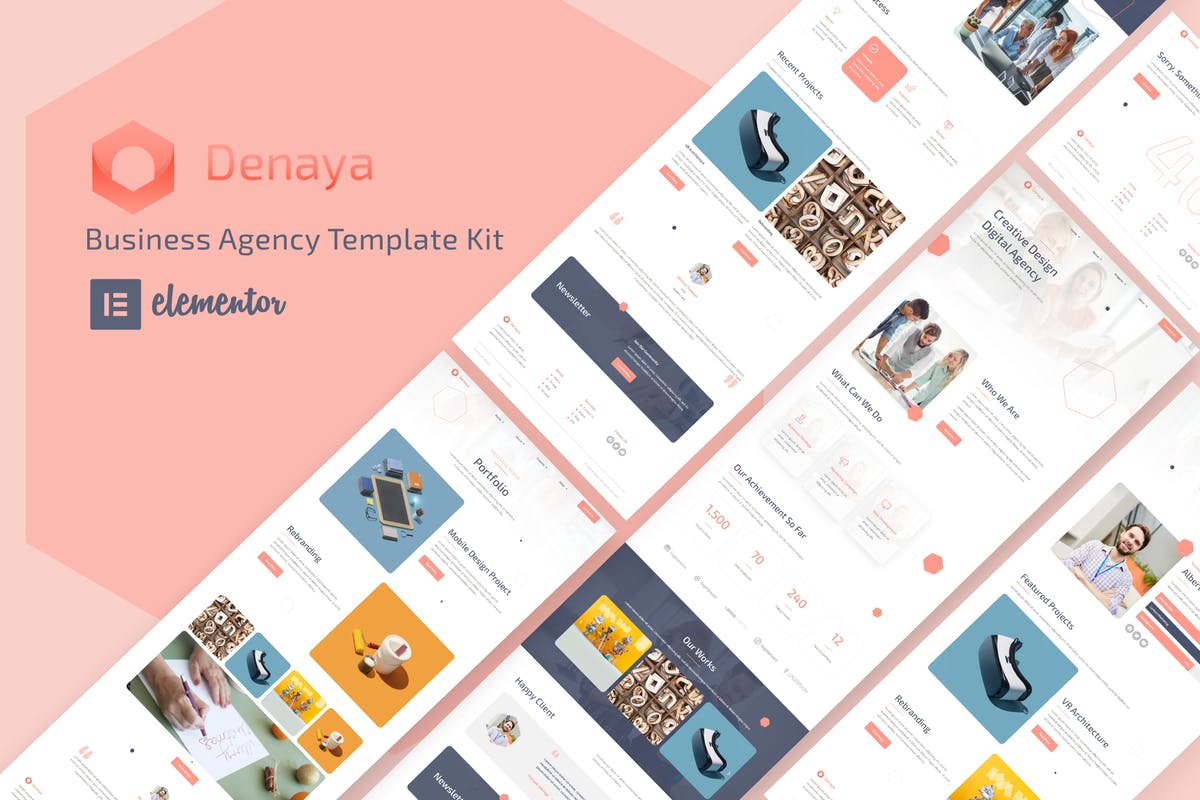 Warning! Downloading copyrighted material is illegal, and all the files here are only for educational uses. if you wish to use this file online you have to buy a genuine version. We don't own and resell this product, we got this from a free source. Developers/creator/maker made it with difficulty. We request you to buy a genuine version.
Premium Fast-Speed Links - If the link is missing, please contact us below and it will be fixed asap!
trashboxs.com Is a free Graphics or Content Provider Website Which Helps Beginner Graphics Designers like Free - Lancers who need some stuff like Major Categories Motion Graphics Elements, Transitions, After Effects Template, After Effects – Premiere Pro Plugin & Scripts, Premiere Pro Template, Apple Motion Video Templates, Final Cut Pro templates, DaVinci Resolve Templates, WordPress Themes, WordPress Plugins, WordPress Template Kits, etc in.
Introduction
Denaya is all about clean and modern agency template. It uses white background color and some elegant accent color such as peach and dark blue. Also unique rounded hexagonal shape. Denaya template kit provide various page including Home, Service, About Us, Team Member, Story, Project, Single Project, FAQ, Contact Us, 404.
## Plugin Dependencies :
Elementor
ElementsKit
Metform
Elementor - Header Footer & Blocks Template
## Templates
Home 1
Services
About Us
Team Member
Story
Project
Single Project
FAQ
Contact Us
404
404 2
## Font Used
## How to Install:
Install and Activate the Envato Elements plugin from Plugins > Add New in WordPress, then activate your subscription. Premium kits may be loaded directly from the Premium Kits library.
Manual import: Do not unzip the download. Upload the Kit zip under Elements> Installed Kits by clicking the Import Kit button. Before importing a template, ensure the Install Requirements button is clicked to activate required plugins. For best results, do not import more than one template at a time.
## How to import Metform custom form
Import metform template -
Import the template where the form appears, then edit in Elementor. -
Click the Metform widget in the column where the form should be and click Edit Form. –
Select New, leave blank selected then click Edit Form button –
Click 'Add Template' grey folder button. –
Click 'My Templates' tab. -
Choose your imported metform template, then click 'Insert'.
Once the template is loaded, click 'Update'.
This Template Kit uses demo images from Envato Elements. You will need to license these images from Envato Elements to use them on your website, or you can substitute them with your own.
https://elements.envato.com/startup-business-office-teamwork-brainstorming-mee-8CQX8WN
https://elements.envato.com/business-professionals-working-on-digital-tablet-w-PX4YTBV
https://elements.envato.com/business-people-discussing-business-report-M9EB5KG
https://elements.envato.com/photographer-journalist-working-studion-agency-con-PT3JHLD
https://elements.envato.com/successful-happy-coworkers-communicating-in-compan-F89WHL3
https://elements.envato.com/virtual-reality-headset-WGFRAKB
https://elements.envato.com/painting-and-home-decoration-9HRW5Q2
https://elements.envato.com/funny-robotic-workers-with-paint-rollers-and-bucke-QYB2QQ3
https://elements.envato.com/letters-TVTJTT3
https://elements.envato.com/cross-armed-businessman-ZH2KMPL
https://elements.envato.com/partial-view-of-businessman-making-calculations-at-AKJF9QW
https://elements.envato.com/successful-businessman-PMDPLPH
https://elements.envato.com/business-meeting-AXSMGL3
https://elements.envato.com/smiling-businesswoman-posing-in-production-agency-GJZV3GV
https://elements.envato.com/they-are-the-winning-team-L9VX3HG
https://elements.envato.com/business-modern-woman-working-in-the-office-E3CC8GB
https://elements.envato.com/businessman-with-papers-KWB6MQZ
https://elements.envato.com/asian-business-woman-in-a-business-center-lobby-DV7S7HP
https://elements.envato.com/back-to-school-and-educational-supplies-D7JAHN6
https://elements.envato.com/making-lettering-for-christmas-card-F5WTHZK
https://elements.envato.com/christmas-background-with-standing-wooden-letters-WDLJ55K
https://elements.envato.com/pile-of-folders-and-paperwork-DC36UQR
https://elements.envato.com/asian-woman-sitting-in-a-bean-bag-and-holding-a-di-4STPJMB
https://elements.envato.com/woman-using-digital-tablet-computer-at-night-9K5BYYY
https://elements.envato.com/business-337P34C