Minerva Support - Knowledge Base | FAQ | Glossary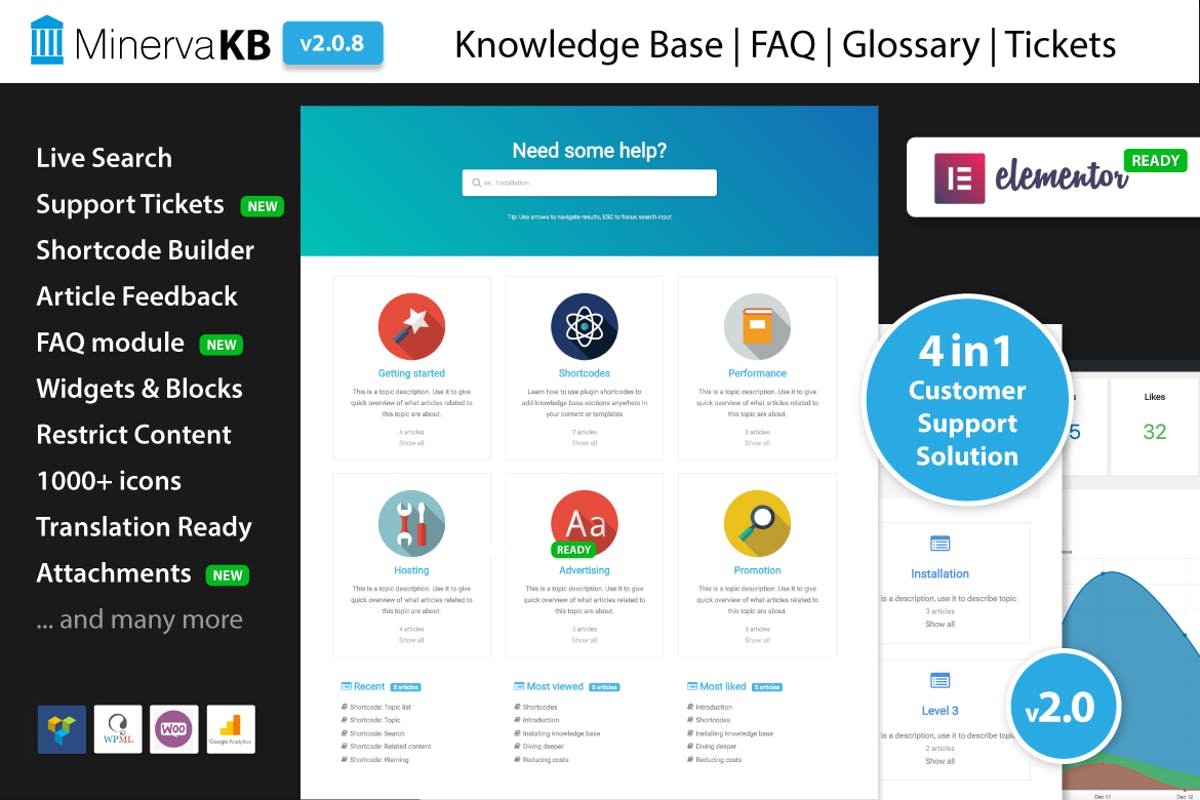 Warning! Downloading copyrighted material is illegal, and all the files here are only for educational uses. if you wish to use this file online you have to buy a genuine version. We don't own and resell this product, we got this from a free source. Developers/creator/maker made it with difficulty. We request you to buy a genuine version.
Premium Fast-Speed Links - If the link is missing, please contact us below and it will be fixed asap!
trashboxs.com Is a free Graphics or Content Provider Website Which Helps Beginner Graphics Designers like Free - Lancers who need some stuff like Major Categories Motion Graphics Elements, Transitions, After Effects Template, After Effects – Premiere Pro Plugin & Scripts, Premiere Pro Template, Apple Motion Video Templates, Final Cut Pro templates, DaVinci Resolve Templates, WordPress Themes, WordPress Plugins, WordPress Template Kits, etc in.
Introduction
Knowledge Base FAQ Glossary and Tickets plugin for WordPress with built-in Analytics
Add documentation and track its performance instantly!
Features
Ajax intuitive Live Search with multiple themes
Analytics dashboard, with views, likes and dislikes weekly / monthly graph
Search analytics – see what users searched for and which results they received
Shortcode builder
WooCommerce Integration
Elementor widgets
Support tickets (ticketing system)
Guest tickets and user tickets
Support agents and managers
Gutenberg ready
Article attachments
Guest posting / Frontend submission
Software versions labels
Visual Composer elements available
One-click demo import
Articles feedback with optional email notifications
Content restriction. Restrict access to articles based on user role. Show login form and teaser to users who are not registered.
1000+ Google Fonts with flexible load options
Articles text color and typography
FAQ module
Glossary Tooltips
Feature Requests module
Google Analytics integration
Search on articles and topics pages
Search for articles using tags
Custom order of topics (drag n drop)
Custom order of articles (drag n drop)
Home page box or list layout, with 2, 3 or 4 columns
Dynamic Table of Contents in articles
Custom post type slugs
Breadcrumbs on topics and articles pages
Nested categories support
Multiple sidebars for each page type
Optionally can display page content on knowledge base page
Icons for topics or articles (600+ icons)
Show or hide article views, likes and dislikes buttons and count with custom icons
Estimated reading time for articles
Enable or disable comments
Automatic updates
Use our templates or switch to your theme default templates
Override plugin templates from theme
Topic and articles widgets
Topics, articles and search shortcodes
Tip, Info and Warning content shortcodes for use in our articles, with custom colors and icons
Responsive design
Documentation
Optimized for speed
Translation & WPML ready
RTL support
Changelog
### Version 2.0.7 – Aug 5, 2021
New: Feature Requests module added, with permissions, settings and drag-n-drop sorting.
New: ReCaptcha added for ticket / login / register forms.
New: Option to open tickets on behalf of registered customers as admin/agent/manager.
New: Excerpt layout for Glossary list module, with configuration settings.
New: Responsive size controls added in Elementor KB modules.
New: Option to disable KB search form submit - search results page on pressing the Enter key.
New: Added option for Related block to display other articles from the current topic. Also added in Gutenberg, Elementor and VC.
New: Option to exclude specific pages from Glossary highlighting.
New: Options to configure form button colours on ticket forms.
New: Multiple translation client-side strings added as options for tickets (upload, credentials, etc.).
New: Added Category filter in FAQ questions admin post list.
Fixed: WordPress 5.8 compatibility fixes.
Fixed: Ticket count in Dashboard now only includes New and Open statuses.
Fixed: Form Editor now allows adding system fields, which were removed by the editor. Also many other form editor fixes and improvements.
Fixed: RTL layout for a ticket reply.
Fixed: Attachments icon missing in admin on Font Awesome v5.
Fixed: Glossary not highlighted on some Elementor pages.
Fixed: Unnecessary shortcodes render removed in ticket replies in the admin.
Fixed: More informative ticket error messages on the client-side.
Fixed: POT file for translations updated.
### Version 2.0.6 – May 12, 2021
New: Added Font Awesome 5 support for all the major modules.
New: FAQ views tracking.
Update: Visual Composer (WPBakery Page Builder) fixes and compatibility updates, tested on the latest version.
Update: Mobile_Detect library updated to the latest version (better mobile devices support).
Fixed: Form Editor field changes not saved when switching to a different row.
New: Added many translation options for tickets.
New: Added standalone file upload button for ticket forms.
New: Custom redirect option for non-logged-in users when trying to view tickets.
Fixed: Post ID instead of dynamic ticket ID displayed in user tickets list shortcode.
Fixed: Glossary tooltip not fully visible when near the page left/right edge.
### Version 2.0.5 – Mar 16, 2021
New: Print button added in articles
New: WooCommerce integration - KB Tab on Product pages
New Workflow for Tickets: New => Pending => Open => Closed
Added filter to show / hide attachments links
Added an option to include empty KB Topics in WP Sitemaps XML
Added 200+ Google Fonts
Added options to edit ticket statuses (name, colors, icon)
Fixed: page zoom on mobile when focusing in search
Fixed: not equal item width when Topic rows are not full
Minor PHP8 compatibility fixes
Added an option to control ticket replies order on the client side
Fixed: wierd behavior of widget title when setting it to empty value
Fixed: restricted articles were not removed from tree of contents widget
WordPress 5.7 compatibility checks & fixes
Fixed: Apply topic restriction filter option conflict with article restriction
### Full change log is available on plugin site or CodeCanyon page